Miami | November 13, 2023 – The WordPress team proudly presents the debut of WordPress 6.4, affectionately dubbed "Shirley." This recent release introduces a plethora of enhancements and augmentations, meticulously curated to streamline the process of site construction and personalization. Let's delve into the pivotal transformations within this cutting-edge version.
Taking center stage in this update is Twenty Twenty-Four, the freshly anointed default theme for WordPress. This versatile theme has undergone meticulous crafting to cater to an array of use cases, spanning from individual blogs to corporate platforms.
Twenty Twenty-Four simplifies the process of site establishment with its expansive repertoire of over 35 templates and patterns. For wordsmiths and bloggers, it furnishes a pristine, undistracted interface to eloquently showcase written compositions. Visual artists and photographers will appreciate how the theme's options artfully accentuate visuals in a compelling manner. For proprietors of eCommerce ventures, the inclusion of commercially-focused templates for stores and products ensures a seamless setup.
In essence, Twenty Twenty-Four aspires to be an optimal starting point for nearly any site genre. Its extraordinary adaptability and customization features guarantee a headstart, irrespective of your niche or content style. Gain a firsthand experience of Twenty Twenty-Four's prowess through this live demonstration.
Although WordPress has long prided itself on being an instinctive content creation platform, WordPress version 6.4 elevates this attribute with enhancements specifically tailored to the art of writing.
Novel keyboard shortcuts have been incorporated to enhance efficiency in List View, facilitating the rearrangement of content. Smarter list manipulation simplifies the process of merging lists seamlessly. Greater control is now afforded for link settings, encompassing attributes like nofollow and sponsored. The toolbar experience exhibits newfound consistency across diverse blocks such as List, Quote, and Navigation, ensuring that essential options are always within reach.
The Command Palette undergoes a visual makeover and gains additional capabilities for expediting block actions. These refinements collectively contribute to a smoother journey in content creation.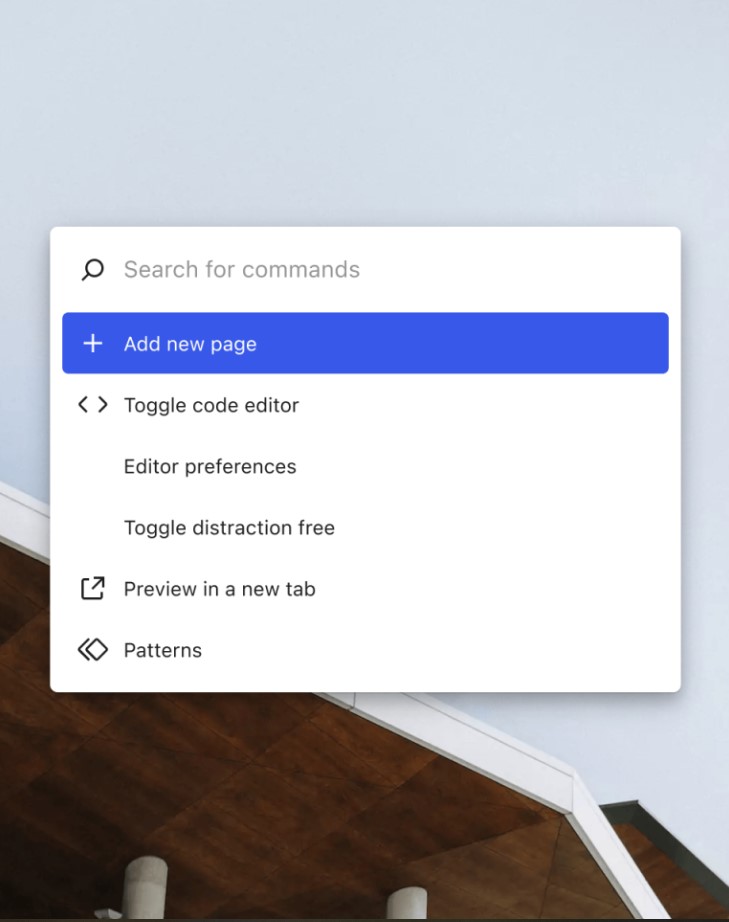 Source: WordPress.org
This release endows users with an expanded repertoire of tools to translate design concepts from ideation to realization.
Background images can now be incorporated into Group blocks, introducing unique styling options. Maintaining image dimensions is rendered effortless with placeholder aspect ratios automatically aligning with your placeholders. The addition of buttons has been streamlined, allowing their inclusion directly within Navigation blocks without resorting to custom code.
Activate the lightbox functionality to immerse site visitors in a fullscreen viewing experience for images. Custom categories afford efficient organization of patterns for swift access to saved layouts. Image previewing is further streamlined, with thumbnails readily visible within List View.
For adept users, the capability to import and export custom patterns between sites as JSON files has been introduced. Collectively, these upgrades unlock a realm of design possibilities, ensuring your site is uniquely yours.
For developers, WordPress 6.4 introduces a medley of exciting additions. Block Hooks facilitates dynamic block insertion in specific content locations, adding depth to how block themes can be extended through plugins.
Over 100 performance enhancements have been implemented to expedite load times. Optimizations span various areas, including template loading, increased utilization of script defer/async, and a comprehensive refactoring of autoloaded options.
Accessibility improvements feature prominently, with enhanced List View and Navigation block ARIA labels. Developers, across the spectrum, will appreciate how these alterations streamline the process of site building and enhance overall performance.
With the introduction of the Twenty Twenty-Four theme, an enriched writing experience, extended design tools, developer innovations, and more – WordPress 6.4 endeavors to provide a substantial boost for both power users and novices alike.
Whether you aim to showcase written content, accentuate visuals, or establish an online store – this release offers a suite of enhancements to streamline the site-building process comprehensively. As always, the WordPress team diligently refines the CMS, upholding simplicity and extensibility as paramount priorities.